DIABETIC RETINOPATHY
Diabetic retinopathy is one of the most serious late microvascular complications of diabetes. Occurrence and severity of diabetic retinopathy is related to duration of diabetes and level of metabolic control. Capillary occlusion, capillary leakage and new vessels' formation are three main abnormalities connected with occurrence of diabetic retinopathy. The long-term maintenance of normoglycemia is the best preventive strategy in case of diabetic retinopathy since in case of this disease effectiveness of pharmacotherapy is rather limited.
Presently, diabetic retinopathy screening is used to recognize patients who have already developed the retinal lesions and who require laser photocoagulation or vitrectomy. The screening itself can not prevent diabetic retinopathy but might save the eyesight of the patient. It is estimated that with the appropriate medical and ophthalmologic care administered at the appropriate time more than 90% of visual loss cases can be prevented.
The fundus photography is one of widely used screening methods. During last decade, this solution was improved by usage of digital cameras that enabled application of image processing and telematic techniques.
At the beginning of the 21st century the advancements of the web technologies enabling presentation of an interactive content within the web browsers started to be used in the diabetic retinopathy telescreening systems. A few systems of that kind have been designed including DRWeb system that was developed and preliminary tested in IBBE PAS in cooperation with the Nara Institute of Science and Technology (Nara, Japan).
DRWeb consisted of a set of the image acquisition stations, the database and the communication server and the image grading station interconnected through the Internet. In this system selected image processing and image analysis techniques have been implemented for an automatic assessment and enhancement of quality of the digital retinal images and for the operator-guided analysis of the retinal images, i.e. marking of the lesions.
Experiences gained during implementation of DRWeb system were utilized in the MODEL CENTER during development of the Diabetic Retinopathy Screening Module that offers similar functionalities but is not based on the web technology to be more consistent / compatible with other modules of the CENTER. In contrast to DRWEB, the Diabetic Retinopathy Screening Module of the CENTER is able to take a control over a selected type of digital fundus camera and retrieve the digital fundus photographs directly to its data base.
Doświadczenia zdobyte w trakcie implementacji systemu DRWeb wykorzystano w trakcie prac nad Modułem Badań Przesiewowych Retinopatii Cukrzycowej w MODELOWYM CENTRUM. Moduł ten oferuje podobną funkcjonalność do tej, którą realizował system DRWeb, jednak dla zapewnienia większej zgodności / kompatybilności tego modułu z pozostałymi modułami CENTRUM, zrezygnowano z wykorzystania technologii webowej. Dodatkowo, w odróżnieniu od systemu DRWeb, moduł CENTRUM współpracuje bezpośrednio z wybranym modelem fundus kamery w celu bezpośredniego odczytu wykonywanej za jej pomocą zdjęć I umieszczania ich w bazie danych CENTRUM.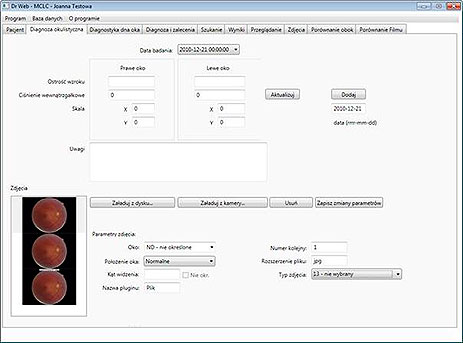 Diabetic Retinopathy Screening Module. Image acquisition form (directly from fundus camera or from file).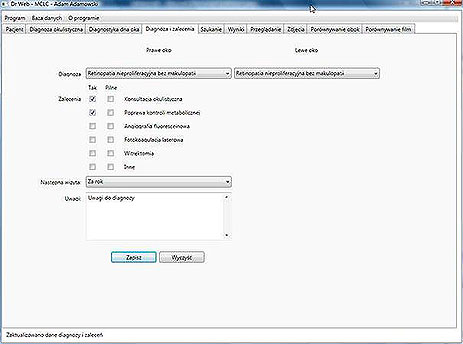 Diabetic Retinopathy Screening Module. Diagnosis and recommendations.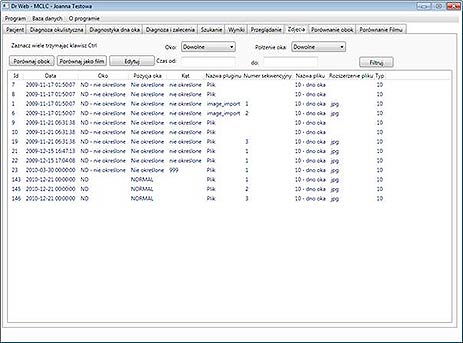 Diabetic Retinopathy Screening Module. Repository of the images fulfilling the selected criteria.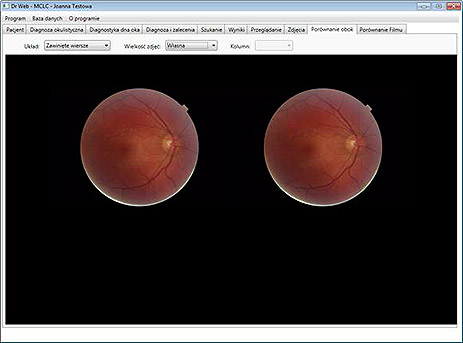 Diabetic Retinopathy Screening Module. Comparison of the image.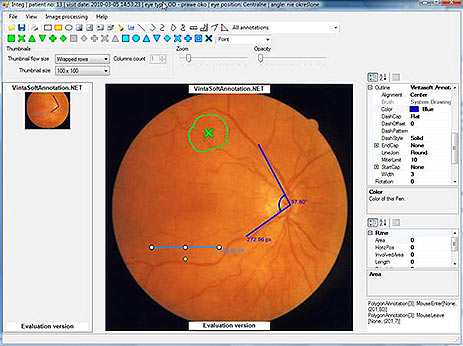 Diabetic Retinopathy Screening Module. Annotations of the lesions.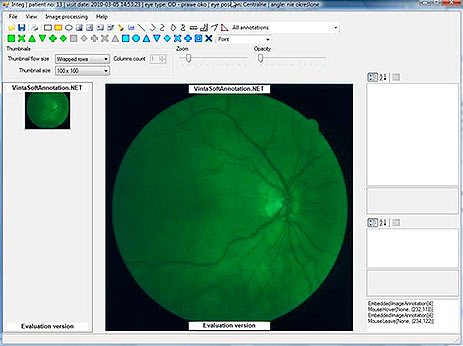 Diabetic Retinopathy Screening Module. Presentation of the retinal image in a red-free mode.